Aloha! I'm Crystal Chanel – your Kaneohe Bay Sandbar and Kualoa Ranch wedding photographer ❤️
"You are the poem I never knew how to write, and this life is the story I always wanted to tell." – T.K. Gregson
Kaneohe Bay Sandbar Wedding
Imagine flying to an island in the middle of the Pacific Ocean with the love of your life, to literally say your "I Do's," while standing on the Kaneohe Sandbar in the middle of the ocean.  This is exactly what Lindsey and Jed did and it was pure magic.
Sunshine, blue skies, white wispy clouds, heart-felt vows, warm embraces, tender kisses, deep love, laughter, and the most lovely shade of blues one can imagine – their ceremony had it all.  And I felt like the luckiest photographer in the world to be there and witness all of its beauty.  Did I mention it involved a boat ride too?!
Four Seasons Oahu Wedding Venue
Afterwards, we made our way back to Four Seasons in Koolina, which by the way, happens to be another fabulous Oahu wedding venue.  Four Seasons has lovely views and gorgeous sunsets.
After Lindsey and Jed got ready for their Kualoa Ranch wedding reception, we stole away to the rocky shore in front of the resort for some couple's images.
Kualoa Ranch Wedding Photographer
They ended their day at Kualoa Ranch with a bohemian tropical wedding reception, under the stars, in a clear tent, with twinkle lights.  Good times were had by all.  So much merry-making happened that evening with shared memories, smiles, dancing, and good eats.
I'll never forget it as long as I live.  There aren't enough words to truly tell you how much Lindsey and Jed's pure love for each other, set my soul on fire with joy.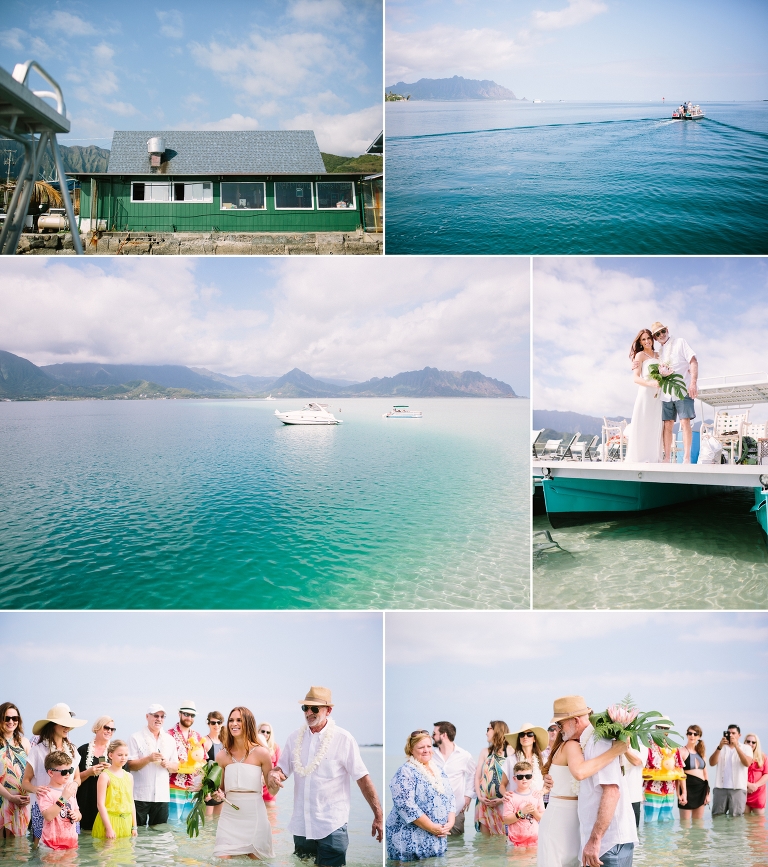 View my wedding portfolio here. Want me to be your Kualoa Ranch Wedding Photographer, too? Connect with me here.
Oahu Wedding Vendors
Oahu Wedding Venue: Kaneohe Bay Sandbar, Kualoa Ranch
Hair & Make Up: Blush Beauty Styling
Dress: Reformation
Wedding Planner & Florals: Josephine Dole
Boating Company: Captain Bob